AC/DC Still Brings The Power
The Boston Globe
By Scott McLennan

July 30, 2009


FOXBOROUGH - AC/DC launched a second North American jaunt behind its Black Ice album Tuesday at Gillette Stadium, and the stalwart Aussie rockers did what they do best: compress the universe into one joyous little place where it's OK to get a little loud and a little dirty, and have a whole lot of fun.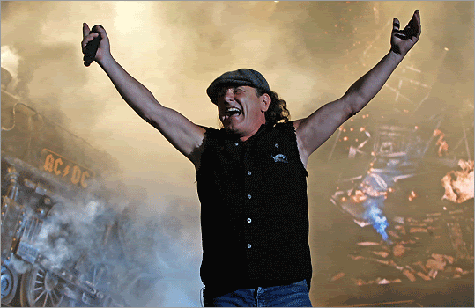 Outside concerns are best checked at the door when entering AC/DC's world. These guys didn't even nod to the fact that the gig, which drew more than 46,000 people, including Chris Rock and David Spade, was the first to coincide with the 30th anniversary of the landmark album,
Highway to Hell.
Still, there's nothing to fault in the way AC/DC meticulously builds its shows. The two-hour, 20-song extravaganza turns on the jittery guitar work of Angus Young, who has fully transitioned from human being to breathing icon. Angus's school-boy uniform, signature guitar poses, devil horns, and sneer are all over the show.
And while Angus is by no means a technically brilliant guitar player, he's unique in the way he plays as if the instrument were simply an extension of his body. The riffs and choppy solos flow as naturally as the sweat that streams off him once the spotlights hit.
Brother Malcolm Young on guitar, Cliff Williams on bass, and Phil Rudd on drums are powerful rhythm players anchoring AC/DC's music, leaving Angus and clenched-jaw singer Brian Johnson to work the crowd in ways that blow up AC/DC's primal sound into bona fide stadium fare.
The set list was nearly the same as when AC/DC came to the area last fall. Five songs off the strong release
Black Ice
sat amid a catalog of historic hard-rock moments such as "Back In Black," "Thunderstruck," "The Jack," and "Highway to Hell."
AC/DC also grabbed onto the gritty "Shot Down in Flames" and "Dog Eat Dog" from the days when singer Bon Scott fronted the group in the 1970s.
Though fireworks capped the night, the really explosive stuff happened before that, especially when Angus did an extended solo workout during "Let There Be Rock," never losing command of the barrage of notes as he raced about the stadium.
Canadian band Anvil sees its lucky streak continuing as it was added as an opener for AC/DC. The trio recently rose from obscurity with the release of a documentary about its struggles to keep rocking even as the world ignored them. The Anvil storyline is better than the witless thrash metal the band actually plays.
Irish band the Answer started the evening with a blast of earnest hard rock.